BERGAMO AIRPORT (BGY) INFORMATION
Origin
Airline
Flight no.
Scheduled
Est./Actual
Status
No flight arrivals were found at Bergamo Airport.
Destination
Airline
Flight no.
Scheduled
Est./Actual
Status
No flight departures were found at Bergamo Airport.
Car Hire at Bergamo Airport
UNBEATABLE VALUE CAR RENTAL
Free Amendments | Free Cancellations | No Card Fees




Bergamo Airport - All Information on Milan Bergamo International Airport (BGY) Bergamo Airport
Via Orio al Serio 49/51, 24050 Grassobbio (BG), Italia
phone 003935326323
phone+39 (0) 35 326 297 (Lost + Found)
emailoperativo@sacbo.it
emailoperativo@sacbo.it (Lost+Found)
call_end035317880 (fax)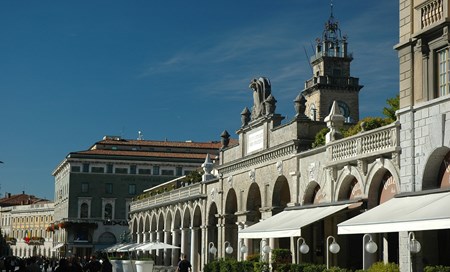 Bergamo Airport also known as Il Caravaggio International Airport in honour of the famous Italian painter Caravaggio, serves one of Italy's most important industrial and commercial provinces. The Lombardy is famous for its art treasures, historic cities and fragrant risotto, but is also home to one of the country's most successful exports: fashion.
Milan hosts several important Fashion and furniture as well as other international trade shows every year, attracting thousands of business visitors in addition to hundreds of thousands of tourists who flock to the city's historic landmarks and chic shopping districts.
Milan Orio al Serio Airport serves not just the city of Milan but other tourism and commercial hubs like Brescia and Bergamo. Bergamo Orio al Serio Airport is located at the very centre of this important area, with Milan being just 45 km away and Bergamo being located within a mere 5 km distance reachable by shuttle operated by Azienda Transporti Bergamo (ATB). Bergamo Airport is mainly used by budget airlines and Ryanair uses Il Caravaggio International Airport as its hub alongside DHL Aviation.
Arrivals, Departures and Airlines at Bergamo Airport
Some 12.3 million passengers used the airport in 2017 and by the end of 2018 more than 12.9 million people had passed through the gates (up 4.9%), a record breaking year. These passenger numbers makes Milan or Bergamo Orio al Serio Airport as it is also known, Italy's third busiest airport in terms of passenger numbers.
Every day departure passengers can board flights to destinations like Frankfurt in Germany, London Stansted in Britain, Paris in France, Madrid in Spain, Groningen in the Netherlands, Luxor in Egypt or Rome Bari, Bologna and Brindisi in Italy.
Flagship carriers like Lufthansa or Air Arabia and budget airlines like Wizz and Ryanair have a presence at Orio al Serio Airport, offering low cost connections to most European city destinations and beyond to Marrakech in Northern Africa.
Transfer Services at Bergamo Airport
A number of shuttle buses connect Milan Orio al Serio Airport with the cities of Milan, Bergamo, Brescia and Monza, taking passengers to the nearest train or metro stations from where they have access to suburban as well as regional and intercity trains. Northern Italy is part of a high-speed rail network that covers all of Italy and links the Mediterranean country with its neighbours across the borders into Switzerland, France and Germany. The shuttle bus from Bergamo's train station takes just 10 minutes to arrive at Orio al Serio Airport.
At least eight well-known car rental suppliers have counters in the arrivals hall at Milan Orio al Serio Airport, providing a large selection of vehicles for every occasion and budget. The taxi rank is located just outside the arrivals area, where private transfers by taxi or pre-arranged minibus and car sharing is available.
Hotels near Bergamo Airport
There are a number of hotels to suit all budgets and requirements at or near Bergamo Airport.
Parking at Bergamo Airport
Parking is available in some 5,400 spaces of which 1,000 are covered. Passengers can choose between long-term parking and short-term parking packages that are competitively prices.
Additional Services and Amenities at Bergamo Airport
At Bergamo Airport you will find the usual array of bars and restaurants, airport lounges and shops.
Orio al Serio Airport has a plethora of shops for a relatively small airport. From fashion to accessories, from fresh flowers to guide books and maps – Milan Orio al Serio Airport offers plenty of choice for determined shoppers.
Passengers looking for refreshments won't be disappointed either. There are juice bars and cafes, snack bars and grills, self-service restaurants and bars, where tired travelers can relax, recharge their energies and partake of some delicious food and drink.
The passenger terminal offers two banking facilities with ATM and a money broker service for currency exchange transactions, too. A church and pharmacy look after passengers spiritual as well as physical well-being while they are at Orio al Serio Airport, while the Lest Luggage office looks after passengers in dire need of their luggage. Bergamo Tourism has its own office at Milan Orio al Serio Airport and is open every day of the week to provide guidance and inspiration to travellers looking to make the most of their visit in the Lombardy region.
Things to do in Bergamo
The nearby city of Bergamo is not just an important centre for trade and commerce, Bergamo is a tourist attraction in its own right. The ancient city was founded by a Celtic tribe and became later a major settlement in Roman times. Located some 40 km to the northeast of Milan, Bergamo's spires and red roofs were fought over in turn by Frederick Barbarossa in 1165, by King John of Bohemia in 1331 and after various other skirmishes and major battles it fell into the hands of the Venetian Republic in 1428, where it remained under its fiercely protective grasp until 1797. Many buildings in Bergamo bear witness to the city's turbulent past and display Venetian style architecture alongside Romanesque and Baroque churches, palazzos and piazzas.
Milan Bergamo Airport is the perfect choice for a long weekend break in the beautiful city of Bergamo and the exciting city of Milan.
Services at Bergamo Airport
Useful Information about Bergamo Airport