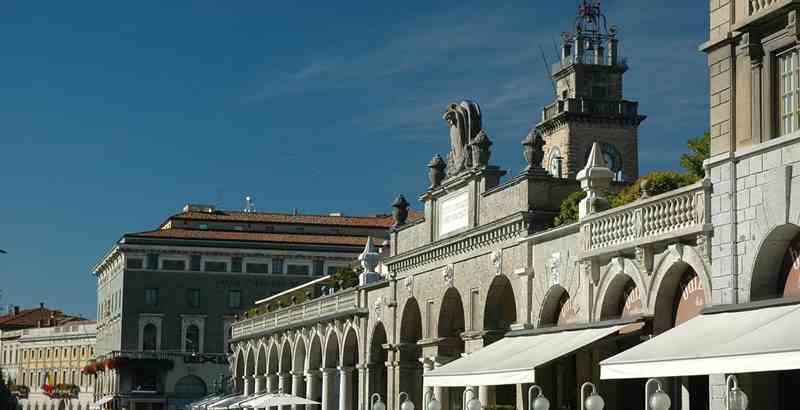 Bergamo Tourist Attractions
The nearest city to Orio al Serio airport is actually Bergamo, a beautiful historic centre of commerce and culture dating back to Roman times that is a must-see for any tourist coming to the Lombardy region.
Bergamo may not be as large as Milan, the Lombardy capital, but it has some 158 hotels, countless B&B's and comfortable guesthouses, where visitors can stay for a few days to explore this part of Northern Italy at their leisure, before departing for Milan.
Therefore, Milan Orio al Serio tourist attractions are really referring to a large area, where cities like Bergamo and Brescia, Lecco and Varese, Turin and Verona, Mantua, Como, Cremona, Sondrio, Monza and Lodi to name but a few also have a multitude of attractions and amenities to offer.
Milan is located some 40 km to the north of Orio al Serio and can easily be reached by road, bus and train. In Bergamo visitors can marvel at historic monuments and stunning architecture such as the beautiful Santa Maria delle Grazie church or the graceful Piazza Vittorio Veneto or the Palazzo Medolago, which perches high up above the ancient city. Perfect for a family day out Castello di San Viglio and Rocca Castle, Bergamo's very own impressive fortifications, allow kids to run free, while mum and dad can enjoy a picnic and much needed rest in the parks and gardens surrounding the castles.
Bookworms might like to head straight to the Piazza Vecchia in the Old Town or Citta Alta, where the Biblioteca Angelo Mai is really a disguised Palazzo Nuovo, a splendid palace designed by Vincenzo Scamozzi in the early part of the 17th century. The collection includes stamps, rare manuscripts, autographs and early photographs as well as some 700,000 volumes of rare books, 11,000 periodicals and 2,150 incunabula or rare documents.
The medieval Piazza Vecchia is a great place to come for an afternoon. Lined by wonderful examples of some of Bergamo's finest architecture, the piazza also has the Torrente Morla nel tratto cittadino as a tourist attraction – this is a terraced water feature extraordinaire, which runs alongside a large part of the piazza and provides visitors of all ages with cool, refreshing water during the hot summer months.
Orio al Serio tourist attractions naturally cover the city of Milan itself, where some of the world's finest fashion houses have their outlets and where every year the Milan Fashion Week showcases some of the planet's best new designs. Milan's Duomo, an enormous Gothic cathedral, dates back to 1386, although it wasn't actually finished until some 500 years later. There are no fewer than 135 delicate spires and 3,200 statues for visitors to admire and the best panoramic views over central Milan can be enjoyed from the Duomo's impressive roof.
The cathedral is located at the Piazza del Duomo, which is naturally a hub for visitors and one of Milan's finest piazzas. The Palazzo Reale or Royal Palace can be found here, which is host to the Duomo Museum as well as housing a splendid collection of contemporary art.
Also ranking high among Milan Orio al Serio tourist attractions is the vast array of music venues, where some of the world's finest classical musicians practice their craft. Naturally, Milan's La Scala Opera House tops the list of musical attractions. La Scala opened its doors to the Italian public for the first time in 1778 and has since staged some of the world's finest operatic performances. There is a fine museum housing musical instruments and busts of famous musicians as well as some portraits of stars from the world of classical music through the ages.
For shoppers on a mission to explore some of Europe's finest and most expensive fashion houses there can be few other places, where their keen eye for next season's "must-have" accessories could be more appreciated or sought after. The best shopping districts can be found between the Via Dante, the Duomo and the castle, Corso Vittorio Emanuele II, which is near the Piazza della Scala and via Monte Napoleone, which is also near the Duomo.
Milan Orio al Serio tourist attractions for visitors with deep pockets include the exclusive designer fashion houses and jewelry stores located in the Golden Quadrangle (Quadrilatero d'Oro), which is a district of Milan that centre around streets like Via Andrea, Via Gesù, Corso Venezia and Via Borgospesso.
Whatever the budget or interest, Bergamo's tourist attractions are so numerous there is something for everyone to enjoy.
UNBEATABLE VALUE CAR RENTAL

FREE
Amendments,
FREE
Cancellations,
NO
card fees!

airport_shuttle Need Airport Transfers?
Useful Information about Bergamo Airport