Flights, Arrivals & Departures at Bergamo Airport
Origin
Airline
Flight no.
Scheduled
Est./Actual
Status
Brno (BRQ)
Ryanair
FR9373
00:25
23:58
Landed
Vantaa (HEL)
Malta Air
FR3393
00:30
00:44
Landed
Catania (CTA)
Ryanair
FR6650
00:35
01:01
Landed
Cluj-Napoca (CLJ)
Ryanair
FR2683
00:40
00:33
Landed
Palermo (PMO)
Ryanair
FR6452
00:40
00:21
Landed
Kerkyra (CFU)
Malta Air
FR4989
01:00
01:03
Landed
Cologne (CGN)
Maersk Air Cargo
DJ6402
04:02
04:09
Landed
Cologne (CGN)
Maersk Air Cargo
DJ6498
05:07
05:15
Landed
Sharm El Sheikh (SSH)
Neos
NO1521
05:15
05:42
Landed
Marsa Alam (RMF)
ETF Airways
NO1677
06:25
06:19
Landed
Sofia (SOF)
Wizz Air
W64351
07:35
07:19
Landed
Brindisi (BDS)
Ryanair
FR3449
07:40
07:25
Landed
Berlin (BER)
Ryanair
FR3390
07:50
07:37
Landed
Bratislava (BTS)
Ryanair
FR4643
07:50
07:34
Landed
Belgrade (BEG)
Wizz Air
W64123
08:05
07:51
Landed
Billund (BLL)
Ryanair
FR4723
08:30
08:10
Landed
Brussels (CRL)
Ryanair
FR4522
08:30
08:15
Landed
Vienna (VIE)
Lauda Europe
FR1532
08:30
08:13
Landed
Bucharest (OTP)
Wizz Air
W43131
08:35
08:19
Landed
Tirana (TIA)
Wizz Air
W43845
08:55
08:30
Landed
Catania (CTA)
Ryanair
FR2262
09:05
08:54
Landed
Cagliari (CAG)
Ryanair
FR3201
09:50
09:31
Landed
Pescara (PSR)
Ryanair
FR2294
09:50
09:44
Landed
Palma Mallorca (PMI)
Ryanair
FR5656
09:50
10:07
Landed
Dublin (DUB)
Ryanair
FR4038
09:55
09:37
Landed
Poznan (POZ)
Ryanair
FR3594
09:55
09:49
Landed
London (STN)
Ryanair
FR2696
09:55
09:54
Landed
Lisbon (LIS)
easyJet
U26703
10:05
09:41
Landed
Lamezia-terme (SUF)
Ryanair
FR1418
10:05
10:02
Landed
London (LGW)
easyJet
U28291
10:10
10:15
Landed
Alicante (ALC)
Ryanair
FR3507
10:15
10:11
Landed
Brindisi (BDS)
Ryanair
FR3483
10:15
09:59
Landed
Rome (FCO)
AirConnect
KS7202
10:20
Unknown
Rome (FCO)
Flexflight
W28417
10:20
Scheduled
Rome (FCO)
SkyAlps
XZ1102
10:20
10:57
Landed
Manises (VLC)
Malta Air
FR496
10:35
10:19
Landed
Katowice (KTW)
Ryanair
FR3409
10:40
10:22
Landed
Porto (OPO)
Ryanair
FR4041
10:45
10:26
Landed
Funchal (FNC)
Ryanair
FR392
10:50
10:33
Landed
Lamezia-terme (SUF)
Ryanair
FR5093
10:55
10:45
Landed
Vitoria. (VIT)
Ryanair
FR3301
11:00
10:41
Landed
London (STN)
Ryanair
FR2738
11:10
11:04
Landed
Iasi (IAS)
Ryanair
FR3113
11:15
10:52
Landed
Copenhagen (CPH)
Ryanair
FR1785
11:25
11:26
Landed
Cairo (CAI)
Air Arabia
E5542
11:30
11:23
Landed
Cork (ORK)
Ryanair
FR9051
11:40
11:51
Landed
Istanbul (SAW)
AnadoluJet
TK7794
11:45
11:47
Landed
Cagliari (CAG)
Ryanair
FR3481
11:50
11:34
Landed
Dusseldorf (DUS)
Air Baltic
EW9800
12:20
12:19
Landed
Sharjah (SHJ)
Air Arabia
G9710
12:20
12:15
Landed
Palermo (PMO)
Ryanair
FR2290
12:25
11:58
Landed
Brussels (CRL)
Ryanair
FR3660
12:35
12:31
Landed
Barcelona (BCN)
Ryanair
FR846
12:50
14:22
Landed
Knock (NOC)
Ryanair
FR1747
12:55
13:03
Landed
Thessaloniki (SKG)
Malta Air
FR4775
13:00
12:38
Landed
Madrid (MAD)
Ryanair
FR5493
13:05
12:47
Landed
Athens (ATH)
Ryanair
FR1318
13:10
13:07
Landed
Lisbon (LIS)
Ryanair
FR821
13:20
14:09
Landed
Sevilla (SVQ)
Ryanair
FR1295
13:25
13:38
Landed
Wroclaw (WRO)
Ryanair
FR8845
13:25
13:11
Landed
Belfast (BFS)
Ryanair
RK9603
13:35
13:31
Landed
Napoli (NAP)
Ryanair
FR2286
13:45
13:56
Landed
Bari (BRI)
Ryanair
FR3654
13:50
13:28
Landed
Tbilisi (TBS)
Georgian Airways
A9731
13:50
13:42
Landed
Tirana (TIA)
Albawings
2B233
13:50
13:35
Landed
Budapest (BUD)
Ryanair
FR2108
14:15
14:12
Landed
Palermo (PMO)
Ryanair
FR4968
14:25
14:29
Landed
Lodz (LCJ)
Ryanair
FR9891
14:50
14:39
Landed
Tel Aviv Yafo (TLV)
Ryanair
FR2006
14:50
14:43
Landed
Paris (BVA)
Ryanair
FR3433
14:55
16:58
Landed
Rotterdam (RTM)
Transavia
HV6275
15:00
15:29
Landed
Berlin (BER)
Ryanair
FR3311
15:05
15:10
Landed
Paris (BVA)
Ryanair
FR4232
15:10
15:58
Landed
Zaragoza (ZAZ)
Malta Air
FR3503
15:15
14:59
Landed
Tenerife (TFS)
Ryanair
FR2832
15:20
15:14
Landed
Prague (PRG)
Ryanair
FR3529
15:25
15:20
Landed
Bucharest (OTP)
Ryanair
FR2288
15:30
15:23
Landed
Iasi (IAS)
Wizz Air
W43671
15:40
15:34
Landed
Malaga (AGP)
Ryanair
FR3399
15:50
15:51
Landed
Wasaw Modlin (WMI)
Ryanair
FR1904
15:50
15:41
Landed
Crotone (CRV)
Ryanair
FR3397
15:55
15:54
Landed
Istanbul (SAW)
Pegasus
PC1213 expand_more(1)
16:10
17:03
Landed
Istanbul (SAW)
ITA Airways
AZ7053
16:10
17:03
Landed
Bristol (BRS)
Ryanair
FR3560
16:15
16:04
Landed
Rome (FCO)
AirConnect
KS7204
16:15
Unknown
Rome (FCO)
Flexflight
W28505
16:15
Scheduled
Rome (FCO)
SkyAlps
XZ1202
16:15
16:35
Landed
Bari (BRI)
Malta Air
FR4131
16:45
16:31
Landed
Torp (TRF)
Ryanair
FR3588
16:50
16:53
Landed
Stockholm (ARN)
Ryanair
FR3656
17:00
17:05
Landed
Dublin (DUB)
Ryanair
FR4844
17:00
17:18
Landed
Wasaw Modlin (WMI)
Ryanair
FR3897
17:00
17:12
Landed
Alghero (AHO)
Ryanair
FR2255
17:05
17:08
Landed
Manises (VLC)
Ryanair
FR4632
17:30
17:26
Landed
Faro (FAO)
Ryanair
FR5140
17:35
17:32
Landed
Barcelona (BCN)
Ryanair
FR3143
17:45
17:37
Landed
Napoli (NAP)
Ryanair
FR3562
17:55
Delayed
Cagliari (CAG)
Ryanair
FR4707
18:00
17:48
Landed
Bordeaux (BOD)
Ryanair
FR5832
18:10
Scheduled
Malaga (AGP)
Ryanair
FR4674
18:25
Scheduled
Oviedo Aviles (OVD)
Volotea
V73510
18:30
Scheduled
Brindisi (BDS)
Ryanair
FR3638
18:55
Scheduled
Trapani (TPS)
Ryanair
FR4651
19:00
Scheduled
Marrakech (RAK)
Ryanair
FR3403
19:10
Delayed
Rhodes (RHO)
Ryanair
FR4202
19:10
Delayed
Cologne (CGN)
Ryanair
FR5550
19:15
Scheduled
Marrakech (RAK)
KlasJet
KLJ9562
19:32
Scheduled
Cagliari (CAG)
Ryanair
FR4876
19:45
Scheduled
Catania (CTA)
Ryanair
FR6174
19:55
Scheduled
Warsaw (WAW)
Wizz Air
W61431
20:05
Delayed
Suceava (SCV)
Wizz Air
W43607
20:15
19:59
Landed
Newcastle (NCL)
Ryanair
FR460
20:30
Scheduled
Krakow (KRK)
Buzz
FR889
20:30
Scheduled
Ibiza (IBZ)
Ryanair
FR8335
20:30
Delayed
Brindisi (BDS)
Ryanair
FR5619
20:35
Scheduled
Manchester (MAN)
Ryanair
FR3216
20:35
Scheduled
Vienna (VIE)
Lauda Europe
FR7360
20:35
Scheduled
Gudja (MLA)
Ryanair
FR7325
20:40
Delayed
Brussels (CRL)
Ryanair
FR4474
20:55
Scheduled
Dusseldorf (NRN)
Ryanair
FR485
20:55
Scheduled
Napoli (NAP)
Ryanair
FR3666
20:55
Scheduled
Craiova (CRA)
Wizz Air
W43751
21:00
Scheduled
Ancona (AOI)
Maersk Air Cargo
DJ6401
21:04
Scheduled
Cluj-Napoca (CLJ)
Wizz Air
W43381
21:25
Scheduled
Hamburg (HAM)
Ryanair
FR3550
21:25
Scheduled
Birmingham (BHX)
Ryanair
FR5103
21:35
Delayed
London (STN)
Malta Air
FR3674
21:35
Scheduled
Palermo (PMO)
Ryanair
FR6148
21:40
Delayed
Tirana (TIA)
Wizz Air
W43869
21:45
Scheduled
Budapest (BUD)
Ryanair
FR3165
21:55
Scheduled
Dubai (DXB)
flydubai
FZ1571 expand_more(1)
22:00
Scheduled
Dubai (DXB)
Emirates
EK2414
22:00
Scheduled
Olbia (OLB)
Volotea
V71317
22:05
21:44
Landed
Chania (CHQ)
Ryanair
FR4549
22:10
21:50
Landed
Rome (FCO)
AirConnect
KS7210
22:10
Scheduled
Rome (FCO)
Flexflight
W28401
22:10
Scheduled
Rome (FCO)
SkyAlps
XZ1302
22:10
Scheduled
Bari (BRI)
Ryanair
FR4659
22:15
Scheduled
Gdansk (GDN)
Ryanair
FR3279
22:15
Scheduled
Madrid (MAD)
Ryanair
FR5983
22:30
Delayed
Barcelona (BCN)
Ryanair
FR6305
22:35
Scheduled
Puerto del Rosario (FUE)
Ryanair
FR6179
22:35
Scheduled
Sofia (SOF)
Ryanair
FR3438
22:40
Scheduled
Copenhagen (CPH)
Ryanair
FR2989
22:45
Scheduled
Lanzarote (ACE)
Ryanair
FR4000
23:00
Scheduled
Edinburgh (EDI)
Ryanair
FR3646
23:00
Delayed
Cologne (CGN)
Ryanair
FR5532
23:00
Scheduled
Marseille (MRS)
Ryanair
FR1852
23:00
Scheduled
Eindhoven (EIN)
Ryanair
FR3461
23:00
Scheduled
London (STN)
Ryanair
RK4189
23:00
Scheduled
Bari (BRI)
Ryanair
FR4668
23:05
Scheduled
Pescara (PSR)
Ryanair
FR3509
23:05
Scheduled
Ibiza (IBZ)
Ryanair
FR8799
23:05
Scheduled
Toulouse (TLS)
Ryanair
FR5981
23:05
Scheduled
Paphos (PFO)
Ryanair
FR3650
23:15
Scheduled
Destination
Airline
Flight no.
Scheduled
Est./Actual
Status
Tirana (TIA)
Air Albania
ZB2008
00:10
Unknown
Palma de Mallorca (PMI)
Ryanair
FR5655
05:45
06:09
En-Route
Iasi (IAS)
Ryanair
FR3112
05:55
06:00
En-Route
Bologna (BLQ)
Maersk Air Cargo
DJ6498
06:00
06:30
En-Route
Poznan (POZ)
Ryanair
FR3593
06:00
06:11
En-Route
Milan (MXP)
Neos
NO8521
06:00
06:54
En-Route
Tenerife (TFS)
Ryanair
FR2833
06:00
06:16
En-Route
Valencia (VLC)
Malta Air
FR497
06:05
06:06
En-Route
Cork (ORK)
Ryanair
FR9050
06:10
06:21
En-Route
Tel Aviv (TLV)
Ryanair
FR2005
06:10
06:25
En-Route
Ancona (AOI)
Maersk Air Cargo
DJ6402
06:20
06:35
En-Route
Lamezia Terme (SUF)
Ryanair
FR1417
06:20
06:27
En-Route
Cagliari (CAG)
Ryanair
FR3200
06:25
06:23
En-Route
Brindisi (BDS)
Ryanair
FR3448
06:35
06:32
En-Route
Vitoria (VIT)
Ryanair
FR3300
06:40
06:41
En-Route
London (STN)
Ryanair
FR2697
06:45
06:45
En-Route
Copenhagen (CPH)
Ryanair
FR1784
06:50
06:49
En-Route
Katowice (KTW)
Ryanair
FR3408
06:50
06:51
En-Route
Rome (FCO)
AirConnect
KS7201
07:00
Unknown
Rome (FCO)
Flexflight
W28416
07:00
Scheduled
Rome (FCO)
SkyAlps
XZ1101
07:00
07:09
En-Route
Pescara (PSR)
Ryanair
FR2293
07:05
07:02
En-Route
Knock (NOC)
Ryanair
FR1746
07:10
07:14
En-Route
Lamezia Terme (SUF)
Ryanair
FR5092
07:10
07:16
En-Route
Lisbon (LIS)
Ryanair
FR820
07:15
07:53
En-Route
Bologna (BLQ)
ETF Airways
NO8677
07:30
07:35
En-Route
Athens (ATH)
Ryanair
FR1319
07:45
07:45
En-Route
Cluj-Napoca (CLJ)
Ryanair
FR2682
07:50
07:58
En-Route
Brindisi (BDS)
Ryanair
FR3482
08:05
08:05
En-Route
Sofia (SOF)
Wizz Air
W64352
08:05
08:16
En-Route
Berlin (BER)
Ryanair
FR3391
08:15
08:31
En-Route
Bratislava (BTS)
Ryanair
FR4642
08:15
08:22
En-Route
Cagliari (CAG)
Ryanair
FR3480
08:20
08:27
En-Route
Thessaloniki (SKG)
Malta Air
FR4774
08:20
08:20
En-Route
Belgrade (BEG)
Wizz Air
W64124
08:40
08:44
En-Route
Billund (BLL)
Ryanair
FR4722
08:55
08:56
En-Route
Brussels (CRL)
Ryanair
FR4523
08:55
09:04
En-Route
Vienna (VIE)
Lauda Europe
FR1533
08:55
08:58
En-Route
Bucharest (OTP)
Wizz Air
W43132
09:10
09:19
En-Route
Catania (CTA)
Ryanair
FR2261
09:30
09:43
En-Route
Tirana (TIA)
Wizz Air
W43846
09:30
09:34
En-Route
Bari (BRI)
Ryanair
FR3653
10:15
10:17
En-Route
Bucharest (OTP)
Ryanair
FR2287
10:15
10:46
En-Route
Dublin (DUB)
Ryanair
FR4037
10:20
10:42
En-Route
London (STN)
Ryanair
FR2739
10:20
10:53
En-Route
Palermo (PMO)
Ryanair
FR2289
10:25
10:35
En-Route
Naples (NAP)
Ryanair
FR2285
10:30
10:50
En-Route
Alicante (ALC)
Ryanair
FR3506
10:40
11:01
En-Route
London (LGW)
easyJet
U28292
10:40
11:18
En-Route
Lodz (LCJ)
Ryanair
FR9890
10:45
10:55
En-Route
Lisbon (LIS)
easyJet
U26704
10:45
10:48
En-Route
Zaragoza (ZAZ)
Malta Air
FR3502
11:00
11:08
En-Route
Berlin (BER)
Ryanair
FR3312
11:15
11:29
En-Route
Funchal (FNC)
Ryanair
FR393
11:15
11:31
En-Route
Paris (BVA)
Ryanair
FR3432
11:20
11:52
En-Route
Porto (OPO)
Ryanair
FR4042
11:20
11:27
En-Route
Oslo (TRF)
Ryanair
FR3587
11:20
11:24
En-Route
Paris (BVA)
Ryanair
FR4231
11:35
11:54
En-Route
Bristol (BRS)
Ryanair
FR3559
11:45
11:48
En-Route
Crotone (CRV)
Ryanair
FR3396
11:50
12:10
En-Route
Prague (PRG)
Ryanair
FR3528
12:15
12:24
En-Route
Cairo (CAI)
Air Arabia
E5543
12:20
12:40
En-Route
Istanbul (SAW)
AnadoluJet
TK7795
12:40
13:12
En-Route
Malaga (AGP)
Ryanair
FR4673
12:45
12:56
En-Route
Rome (FCO)
AirConnect
KS7203
12:45
Unknown
Rome (FCO)
Flexflight
W28504
12:45
Scheduled
Rome (FCO)
SkyAlps
XZ1201
12:45
13:29
En-Route
Palermo (PMO)
Ryanair
FR4969
12:50
12:49
En-Route
Rhodes (RHO)
Ryanair
FR4201
12:55
14:30
En-Route
Dusseldorf (DUS)
Air Baltic
EW9801
13:00
13:20
En-Route
Brussels (CRL)
Ryanair
FR3659
13:00
13:14
En-Route
Valencia (VLC)
Ryanair
FR4631
13:00
13:22
En-Route
Barcelona (BCN)
Ryanair
FR847
13:15
15:12
En-Route
Sharjah (SHJ)
Air Arabia
G9711
13:20
13:47
En-Route
Bari (BRI)
Malta Air
FR4132
13:25
13:32
En-Route
Madrid (MAD)
Ryanair
FR5494
13:30
13:39
En-Route
Fuerteventura (FUE)
Ryanair
FR6178
13:50
14:17
En-Route
Seville (SVQ)
Ryanair
FR1296
13:50
14:48
En-Route
Wroclaw (WRO)
Ryanair
FR8844
13:50
14:03
En-Route
Belfast (BFS)
Ryanair
RK9604
14:00
14:34
En-Route
Alghero (AHO)
Ryanair
FR2254
14:10
14:24
En-Route
Lanzarote (ACE)
Ryanair
FR4001
14:25
14:40
En-Route
Bordeaux (BOD)
Ryanair
FR5831
14:25
14:49
En-Route
Budapest (BUD)
Ryanair
FR2107
14:40
15:06
En-Route
Naples (NAP)
Ryanair
FR3561
14:40
14:44
En-Route
Tirana (TIA)
Albawings
2B232
14:40
14:56
En-Route
Tbilisi (TBS)
Georgian Airways
A9732
14:50
15:04
En-Route
Brindisi (BDS)
Ryanair
FR3637
15:15
16:19
En-Route
Trapani (TPS)
Ryanair
FR4650
15:15
15:30
En-Route
Catania (CTA)
Ryanair
FR6175
15:45
17:04
En-Route
Manchester (MAN)
Ryanair
FR3217
15:45
15:55
En-Route
Rotterdam (RTM)
Transavia
HV6276
15:45
16:25
En-Route
Cologne (CGN)
Ryanair
FR5551
15:50
16:17
En-Route
Pafos (PFO)
Ryanair
FR3649
16:00
16:33
En-Route
Ibiza (IBZ)
Ryanair
FR8334
16:05
16:36
En-Route
Malaga (AGP)
Ryanair
FR3398
16:15
17:23
En-Route
Cagliari (CAG)
Ryanair
FR4706
16:15
16:59
En-Route
Iasi (IAS)
Wizz Air
W43672
16:15
16:24
En-Route
Warsaw (WMI)
Ryanair
FR1903
16:15
16:40
En-Route
Chania (CHQ)
Ryanair
FR4548
16:20
16:28
En-Route
Hamburg (HAM)
Ryanair
FR3549
17:05
17:09
En-Route
London (STN)
Malta Air
FR3673
17:10
17:27
En-Route
Istanbul (SAW)
Pegasus
PC1214 expand_more(1)
17:15
Scheduled
Istanbul (SAW)
ITA Airways
AZ7058
17:15
Scheduled
Madrid (MAD)
Ryanair
FR5984
17:20
Scheduled
Stockholm (ARN)
Ryanair
FR3655
17:25
Scheduled
Dublin (DUB)
Ryanair
FR4845
17:25
Scheduled
Edinburgh (EDI)
Ryanair
FR3645
17:30
Scheduled
Warsaw (WMI)
Ryanair
FR3896
17:35
Scheduled
Naples (NAP)
Malta Air
FR3665
17:40
Scheduled
Palermo (PMO)
Ryanair
FR6149
17:40
Scheduled
Faro (FAO)
Ryanair
FR5139
18:00
Scheduled
Barcelona (BCN)
Ryanair
FR3142
18:10
Scheduled
Copenhagen (CPH)
Ryanair
FR2990
18:10
Scheduled
Sofia (SOF)
Ryanair
FR3437
18:20
Scheduled
Ibiza (IBZ)
Ryanair
FR8800
18:35
Scheduled
Cagliari (CAG)
Ryanair
FR4877
18:40
Scheduled
Bari (BRI)
Ryanair
FR4658
18:50
Scheduled
Rome (FCO)
AirConnect
KS7209
18:50
Scheduled
Rome (FCO)
Flexflight
W28400
18:50
Scheduled
Rome (FCO)
SkyAlps
XZ1301
18:50
Scheduled
Olbia (OLB)
Volotea
V71316
18:55
Scheduled
Eindhoven (EIN)
Ryanair
FR3460
19:20
Scheduled
Cologne (CGN)
Ryanair
FR5531
19:35
Scheduled
Marrakesh (RAK)
Ryanair
FR3402
19:35
Scheduled
Toulouse (TLS)
Ryanair
FR5980
19:35
Scheduled
Bari (BRI)
Ryanair
FR4667
19:40
Scheduled
Marseille (MRS)
Ryanair
FR1853
20:10
Scheduled
Pescara (PSR)
Ryanair
FR3508
20:20
Scheduled
Warsaw (WAW)
Wizz Air
W61432
20:40
Scheduled
Suceava (SCV)
Wizz Air
W43608
20:50
Scheduled
Krakow (KRK)
Buzz
FR888
20:55
Scheduled
Vienna (VIE)
Lauda Europe
FR7361
21:00
Scheduled
Brindisi (BDS)
Ryanair
FR5618
21:05
Scheduled
Malta (MLA)
Ryanair
FR7324
21:05
Scheduled
Brussels (CRL)
Ryanair
FR4475
21:20
Scheduled
Weeze (NRN)
Ryanair
FR484
21:20
Scheduled
Craiova (CRA)
Wizz Air
W43752
21:30
Scheduled
Newcastle (NCL)
Ryanair
FR461
21:45
Scheduled
Birmingham (BHX)
Ryanair
FR5102
22:00
Scheduled
Cluj-Napoca (CLJ)
Wizz Air
W43382
22:00
Scheduled
Tirana (TIA)
Wizz Air
W43870
22:20
Scheduled
Budapest (BUD)
Ryanair
FR3164
22:25
Scheduled
Asturias (OVD)
Volotea
V73511
22:30
Scheduled
Gdansk (GDN)
Ryanair
FR3280
22:40
Scheduled
Cologne (CGN)
Maersk Air Cargo
DJ6401
22:50
Scheduled
Barcelona (BCN)
Ryanair
FR6304
23:00
Scheduled
Dubai (DXB)
flydubai
FZ1572 expand_more(1)
23:00
Scheduled
Dubai (DXB)
Emirates
EK2415
23:00
Scheduled
London (STN)
Ryanair
RK4188
23:25
Scheduled
Flying To and From Bergamo Airport
This page provides information about the destinations that can be reached via Bergamo Airport.
Was your flight delayed or cancelled?
You may be eligible to receive up to 600 EUR compensation per person in your party..
Claim Now!
Beat the Queues
Don't stand sweating for 45 mins waiting for Security. Get a fast track and get through in 5 mins or less.
Book now
Lounge like a VIP
Avoid the crowds. Get discounted access to the VIP airport lounge. Its not as expensive as you may think.
Book now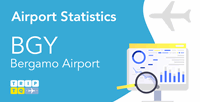 The records indicate that in July 2020, the airport welcomed 319,980 passengers. However, in July 2023, three years after the pandemic, the number of passengers skyrocketed to an astounding 1,483,496, showcasing a remarkable percentage increase of 201.44%...