Train Transfers To and From Bergamo Airport



Milan Bergamo International Airport Train Transfers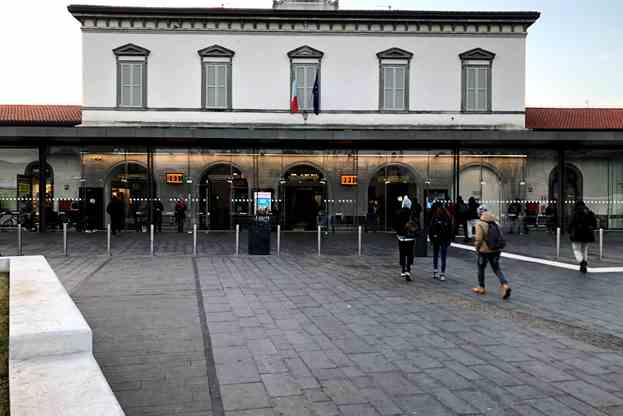 Milan Bergamo Airport trains start their journey from the local Bergamo train station, as there is no train station at the airport itself. The city of Bergamo is located within a 5 km distance of the airport and several convenient shuttle services connect Bergamo with Bergamo and Milan train stations. Passengers arriving at Orio el Serio Airport should board the ATB shuttle for Bergamo train station, the nearest railway connection.
The official portal for train times and ticket prices can be found at Trenitalia, which is Italy's main train operator: www.trenitalia.com. Tickets can also be purchased in advance at this portal and there are numerous ways to save money by buying well in advance of the day of travel.
Despite there being no direct Milan Bergamo Airport trains, the average journey from Bergamo train station to central Milan takes just 48 minutes, but on most journeys, passengers are required to change trains at either Monza or Treviglio. There are some fast, direct services, which cut the travelling time by a few minutes, but on the whole passengers are better off taking direct buses from Bergamo Airport to Milan, which leave the airport at 30-minute intervals and take only 50 minutes to reach Milan Central train station.
Trains from Bergamo railway station take 55 minutes to reach Brescia, but passengers can also take a slower service that stops at Treviglio. Taking this route will increase the travelling time to 1 hour and 12 minutes, but it means seeing a little more of the Lombardy region.
Train journeys to Verona require a change at Brescia before reaching their destination at Verona's Porta Nuova train station. The journey takes a little less than 2 hours, making Verona a viable option for a day trip.
Rome on the other hand requires at least a couple of days, since the train journey from Bergamo takes some 4 and a half hours to arrive. Frecciarossa trains (high speed red services) travel from Bergamo via Milan, where passengers must change, although some regional connections also travel via Monza, where a change of trains must be made. A single train ticket costs from around EUR 54.00, making a long weekend in Rome quite an expensive outing.
The Trenitalia website allows passengers also to shop around for the best travel options for international travel, to France or Switzerland for example. There are 4 daily trains from Milan to Geneva, 3 trains to Basel (travelling via Berne), 1 train connection to Lucerne and 6 trains from Milan to Zurich. The Italy-Switzerland rail connection is operated by ETR trains. The Geneva to Milan trains also have one train per day which departs from Venice for Milan before carrying on the journey to Geneva.
International train connections from Italy to France include the Venice-Rome-Paris line, where Thello night trains offer incredible value for money, starting at ticket prices of just EUR 35.00 for an overnight journey in a 6-berth cabin from Milan to Paris. For just EUR 55.00 passengers can board Thello trains bound for Paris and spend the night in slightly more comfort by sharing a 4-berth compartment instead.
Thello trains may not be part of the trains from Milan Bergamo Airport network, but they offer a great and cost-effective long-distance travel alternative to car hire and coach journeys. Thello trains leave Venice to stop at Padua, Vicenza, Verona, Brescia, Milan and also halt in Rome, Florence and Bologna on some trains.
The Lombardy region is one of Italy's most visited tourist destinations and as a consequence, has excellent rail, bus and road connections. While there are sadly no direct trains from Milan Bergamo Airport, passengers without a driving licence or the wish to hire self-drive cars will still be able to explore Northern Italy with the excellent choice of public transport available to them.