Bergamo Airport Arrivals (BGY)
Not all flights may be showing. If not available use search above to find your flight by airline, airport or flight number.
Origin
Airline
Flight no.
Scheduled
Est./Actual
Status
Ancona (AOI)
Maersk Air Cargo
DJ6401
09:04
Scheduled
Cluj-Napoca (CLJ)
Wizz Air
W43381
09:25
Scheduled
Hamburg (HAM)
Ryanair
FR3550
09:25
Scheduled
Birmingham (BHX)
Ryanair
FR5103
09:35
Delayed
London (STN)
Malta Air
FR3674
09:35
Scheduled
Palermo (PMO)
Ryanair
FR6148
09:40
Delayed
Tirana (TIA)
Wizz Air
W43869
09:45
Scheduled
Budapest (BUD)
Ryanair
FR3165
09:55
Scheduled
Dubai (DXB)
flydubai
FZ1571 expand_more(1)
10:00
Scheduled
Dubai (DXB)
Emirates
EK2414
10:00
Scheduled
Olbia (OLB)
Volotea
V71317
10:05
Scheduled
Chania (CHQ)
Ryanair
FR4549
10:10
Scheduled
Rome (FCO)
AirConnect
KS7210
10:10
Scheduled
Rome (FCO)
Flexflight
W28401
10:10
Scheduled
Rome (FCO)
SkyAlps
XZ1302
10:10
Scheduled
Bari (BRI)
Ryanair
FR4659
10:15
Scheduled
Gdansk (GDN)
Ryanair
FR3279
10:15
Scheduled
Madrid (MAD)
Ryanair
FR5983
10:30
Scheduled
Barcelona (BCN)
Ryanair
FR6305
10:35
Scheduled
Puerto del Rosario (FUE)
Ryanair
FR6179
10:35
Scheduled
Sofia (SOF)
Ryanair
FR3438
10:40
Scheduled
Copenhagen (CPH)
Ryanair
FR2989
10:45
Scheduled
Lanzarote (ACE)
Ryanair
FR4000
11:00
Scheduled
Edinburgh (EDI)
Ryanair
FR3646
11:00
Scheduled
Cologne (CGN)
Ryanair
FR5532
11:00
Scheduled
Marseille (MRS)
Ryanair
FR1852
11:00
Scheduled
Eindhoven (EIN)
Ryanair
FR3461
11:00
Scheduled
London (STN)
Ryanair
RK4189
11:00
Scheduled
Bari (BRI)
Ryanair
FR4668
11:05
Scheduled
Pescara (PSR)
Ryanair
FR3509
11:05
Scheduled
Ibiza (IBZ)
Ryanair
FR8799
11:05
Scheduled
Toulouse (TLS)
Ryanair
FR5981
11:05
Scheduled
Paphos (PFO)
Ryanair
FR3650
11:15
Scheduled
No flight arrivals were found at Bergamo Airport.
Flight Arrivals at Bergamo Airport
There is only one passenger terminal at Bergamo Airport or, as it is also known, Orio al Serio International Airport. The taxi rank is located just outside the arrivals area and convenient shuttles take passengers to the nearby city of Bergamo, to Milan and Monza, as well as to Brescia and Bolzano.
A taxi from Bergamo costs around EUR 50.00 for up to 3 passengers sharing a private transfer. Since the city of Bergamo is located just a few kilometers from the airport, it take only 11 minutes to reach central Bergamo, where plenty of hotels and guesthouses cater for all tastes and budgets. In a private minivan, which must be pre-booked, up to 7 passengers can share their journey to keep down cost, making the fare to Bergamo just EUR 68.00 per vehicle.
Arrivals at Milan Bergamo Airport will also find a large number of car rental providers in the arrivals hall, where Avis, Budget, Europcar, Hertz, LocAuto Rent, Maggiore and Sixt car hire counters welcome customers from early in the morning until late at night.
Bergamo Airport does not have its own metro or main railway station, however, a shuttle service leaves the airport at regular intervals throughout the day and stops at Bergamo train station, where passengers can board regional and intercity trains. Among the various shuttle bus operators are Azienda Transporti Bergamo, Terravision, Autostradale and Orio Shuttle, the latter three all travel to Milan with Orio Shuttle also offering Monza as a destination. Milan Bergamo Airport arrivals have a choice of minibus and private transfers, too, which can be arranged in advance, saving on money.
For a small airport there are a surprising number of shops, restaurants, bars and cafes and passengers in need of spiritual guidance or small emergency medical treatment will find a chapel and a pharmacy, too. Two banks and a currency exchange desk handle all money transactions, while a tourism office provides plenty of useful information on onward travel within Northern Italy in general and in the beautiful Lombardy region in particular.
European Union city destinations are among the busiest routes from and to Milan Bergamo Airport, covering London in the UK, Charleroi in Belgium, Valencia, Barcelona and Madrid in Spain, Dublin in Ireland, Frankfurt in Germany and Bucharest in Romania among others.
Arrivals at Milan Bergamo Airport might originate from domestic destinations such as Cagliari and Bari, Rome and Lamezia Terme, Brindisi and Palermo, Trepani and Alghero or Pescara. Destinations outside the European Union include Istanbul in Turkey, Torp in Norway, Sharm el Sheik in Egypt and Casablanca in Morocco.
Some 12.3 million passengers used the airport in 2017 and by the end of 2018 more than 12.9 million people had passed through the gates (up by 4.9%), clearly demonstrating that even the global recession hasn't been able to dampen tourists' enthusiasm for the wonderful city of Milan and the beautiful Lombardy region.
With fantastic shopping for designer clothes such as Dolce & Gabanna, Bulgari, Armani and Gucci, with more historic monuments and world-class art collections than any city has a right to have and a landscape that includes natural wonders like Lake Maggiore and Lake Como, the cities of Milan and Bergamo offer amazing value for money and are great for any length of holiday.
For long weekend breaks it is hard to beat Milan for the sheer number of tourist attractions, great restaurants and bars, museums, art galleries, chic boutiques and designer outlets, parks and landmark buildings and piazzas.
Outside of Milan there are gorgeous historic cities like Bergamo, Turin and Brescia or Padua and Verona, not to mention the Great Italian Lakes and their picturesque islands.
In winter, arrivals at Bergamo Airport will often head straight to the car rental desk to pick up their transport to the ski slopes and hills in the Piedmontese foothills of the Alps or to travel to the Swiss border for fun and excitement in the snow. In summer there are the verdant hills, rolling fields and rivers, lakes and vineyards of the Lombardy. Venice can be reached by train in under 3 hours, making Milan a perfect base to explore other parts of Northern Italy.
Milan Bergamo Airport arrivals have a great choice of low-cost airlines at their disposal for onward flights to other parts of Europe. Ryanair uses Bergamo Airport as their hub, providing the majority of destinations, but there are also carriers like Wizz Air, Air Arabia Maroc, AlbaStar and Jetairfly, which provide seasonal charter services to augment the geographical spread.
Was your flight delayed or cancelled?
You may be eligible to receive up to 600 EUR compensation per person in your party..
Claim Now!
Beat the Queues
Don't stand sweating for 45 mins waiting for Security. Get a fast track and get through in 5 mins or less.
Book now
Lounge like a VIP
Avoid the crowds. Get discounted access to the VIP airport lounge. Its not as expensive as you may think.
Book now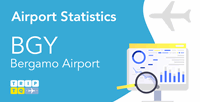 The records indicate that in July 2020, the airport welcomed 319,980 passengers. However, in July 2023, three years after the pandemic, the number of passengers skyrocketed to an astounding 1,483,496, showcasing a remarkable percentage increase of 201.44%...