Bergamo Airport Departures (BGY)
Not all flights may be showing. If not available use search above to find your flight by airline, airport or flight number.
Destination
Airline
Flight no.
Scheduled
Est./Actual
Status
Suceava (SCV)
Wizz Air
W43608
08:50
Scheduled
Krakow (KRK)
Buzz
FR888
08:55
Scheduled
Vienna (VIE)
Lauda Europe
FR7361
09:00
Scheduled
Brindisi (BDS)
Ryanair
FR5618
09:05
Scheduled
Malta (MLA)
Ryanair
FR7324
09:05
Scheduled
Brussels (CRL)
Ryanair
FR4475
09:20
Scheduled
Weeze (NRN)
Ryanair
FR484
09:20
Scheduled
Craiova (CRA)
Wizz Air
W43752
09:30
Scheduled
Newcastle (NCL)
Ryanair
FR461
09:45
Scheduled
Birmingham (BHX)
Ryanair
FR5102
10:00
Scheduled
Cluj-Napoca (CLJ)
Wizz Air
W43382
10:00
Scheduled
Tirana (TIA)
Wizz Air
W43870
10:20
Scheduled
Budapest (BUD)
Ryanair
FR3164
10:25
Scheduled
Asturias (OVD)
Volotea
V73511
10:30
Scheduled
Gdansk (GDN)
Ryanair
FR3280
10:40
Scheduled
Cologne (CGN)
Maersk Air Cargo
DJ6401
10:50
Scheduled
Barcelona (BCN)
Ryanair
FR6304
11:00
Scheduled
Dubai (DXB)
flydubai
FZ1572 expand_more(1)
11:00
Scheduled
Dubai (DXB)
Emirates
EK2415
11:00
Scheduled
London (STN)
Ryanair
RK4188
11:25
Scheduled
No flight departures were found at Bergamo Airport.
Flight Departures at Bergamo Airport
Bergamo Airport or, as it is also known as, Orio al Serio International Airport, has only one passenger terminal, making it a small but easy to navigate airport for departures.
Convenient shuttle buses transport passengers from the nearby city of Bergamo to the airport in a journey that takes less than 30 minutes. There are also excellent bus connections from Milan, which is around 60 km distance from Bergamo, as well as connections from Brescia, Bolzano and Monza.
Milan Bergamo Airport departures arriving by train from other parts of Northern Italy can choose to travel either via Milan Central Train Station or via Bergamo's mainline train station and then join the shuttle services to Bergamo.
A taxi from all city centre locations in Milan will cost around EUR 103.00 for up to 3 passengers sharing one taxi. The journey takes some 40 minutes depending on traffic. A private minivan hire for up to 7 passengers will cost around EUR 107.00 for a single journey, representing a considerable saving. Some of the large international hotels as well as some smaller guesthouses operate their own shuttle services and offer free transfers to their guests.
A taxi from Bergamo to Bergamo Airport costs around EUR 50.00 for a single journey for up to 3 passengers travelling in the same vehicle. Bergamo is located less than 5 kilometers from the airport, so the distance is covered in under 15 minutes depending on traffic. Group departures at Milan Bergamo Airport are better off hiring a private minivan, which carries up to 7 passengers from Bergamo for just EUR 68.00 per vehicle.
The airport is very well connected by road and easy to get to. Milan Bergamo Airport departures can join various bus services operated by local companies such as Azienda Transporti Bergamo, Terravision, Autostradale or Orio Shuttle, which cover Bergamo, Milan, Monza and Bolzano among other city destinations.
At the airport departures area passengers will find any number of shops, restaurants, snack bars and cafes catering for their refreshment needs. For last minute money transactions there are two banks and a currency exchange service located in the terminal and Duty Free shopping as well as regular shopping hasn't been forgotten either: this is Milan's third airport and naturally, in the city of fashion and design departure passengers will find plenty of chic boutiques as well as shops selling accessories and jewelry. In addition, there are newsagents, electronics and gift shops and a small supermarket for last minute essentials.
Departures at Bergamo Airport can choose from European Union city destinations such as London in the UK or Charleroi in Belgium, Seville, Barcelona and Madrid in Spain, and Bucharest in Romania to name but a few, but there are also great choices for onward travel within Italy, such as Cagliari, Bari, Rome, Lamezia Terme, Brindisi and Palermo. For departures for destinations outside the European Union passengers can select from cities such as Istanbul in Turkey, Sharm el Sheik in Egypt, Torp in Norway and Casablanca in Morocco.
Budget carrier Ryanair uses Bergamo Airport as a hub, therefore the majority of routes are offered via Ryanair, but carriers like Wizz Air, Air Arabia Maroc and Jetairfly also offer seasonal charter services to a variety of destination.
Bergamo's airport takes its official name from the famous painter Michelangelo Merisi da Caravaggio, whose major works were created in the artistic centers of Baroque Rome, Naples and Sicily in the late 16th and early 17th century. Caravaggio trained as a painter in Milan, where he studied under Simone Peterzano. He was as famous in his lifetime for his outrageous lifestyle as he was for his stunningly beautiful paintings and his influence on the art world has been immense, having an impact on the way artists like Rubens, Bernini and Rembrandt painted in later years, particularly in the way they used light in their works.
One of Caravaggion's most famous paintings, Supper at Emmaus, painted in 1606, is housed in the Pinacoteca di Brera and is a highlight among Italy's art collections, a must-see for any art lover visiting Milan. For art lovers planning departures at Milan Bergamo Airport that include genuine works of art or antiques, there are strict customs and excise rules to follow, but it is unlikely anyone will be permitted to leave with a genuine Caravaggio painting as part of their luggage!
Most museums and art galleries sell some very good reproductions and there are plenty of excellent reference books on one of Milan's most famous former residents that contain very good facsimile of his works. A coffee table book of Baroque painters makes for a wonderful reminder of the time spent among Milan's cultural riches.
Was your flight delayed or cancelled?
You may be eligible to receive up to 600 EUR compensation per person in your party..
Claim Now!
Beat the Queues
Don't stand sweating for 45 mins waiting for Security. Get a fast track and get through in 5 mins or less.
Book now
Lounge like a VIP
Avoid the crowds. Get discounted access to the VIP airport lounge. Its not as expensive as you may think.
Book now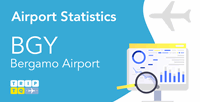 The records indicate that in July 2020, the airport welcomed 319,980 passengers. However, in July 2023, three years after the pandemic, the number of passengers skyrocketed to an astounding 1,483,496, showcasing a remarkable percentage increase of 201.44%...