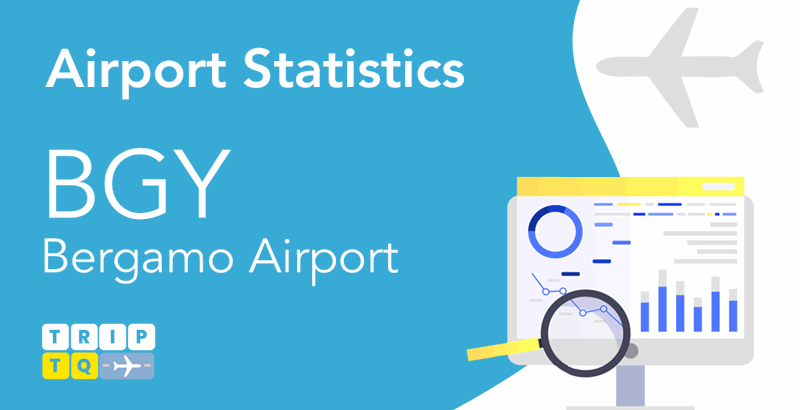 Impressive 364% Gain in July Passenger Numbers at Bergamo Airport
Bergamo Airport in Italy has experienced an unprecedented surge in passenger numbers, with a staggering 363.6% increase in July 2023 when compared to the same month during the pandemic years. The records indicate that in July 2020, the airport welcomed 319,980 passengers. However, in July 2023, three years after the pandemic, the number of passengers skyrocketed to an astounding 1,483,496, showcasing a remarkable percentage increase of 201.44%.
One of the primary reasons for the surge in passenger numbers at Bergamo Airport is the gradual easing of travel restrictions imposed due to the pandemic. Lockdown measures and quarantine requirements significantly impacted air travel 2020, reducing flight demand.
As vaccination rates increased and the situation improved, governments worldwide relaxed these restrictions, allowing people to travel more freely. This newfound accessibility prompted a surge in passengers as individuals eagerly embraced the opportunity to explore new destinations and reunite with loved ones.
Another reason for the impressive surge in passenger numbers can be attributed to the pent-up travel demand accumulated during the pandemic years. With travel restrictions and international borders closed, many individuals postponed their travel plans indefinitely.
As the global situation improved and travel became safer, this pent-up demand was released, resulting in a sudden influx of passengers at airports like Bergamo. People were now motivated to embark on long-delayed vacations, attend important business meetings, or pursue other travel-related activities they could not do in the previous years.
The airport's strategic location was crucial in attracting a surge in passenger numbers. Situated closest to destinations such as Milan, Lake Como, and the Italian Alps, the airport is convenient for leisure and business travelers.
As international borders began reopening, the region's appeal, combined with efficient operations and diverse flight options, made it an attractive choice for travelers seeking to explore the beauty of Northern Italy. The airport's connectivity to major European cities further enhanced its allure, making it a preferred starting point for those embarking on intercontinental journeys.
Another reason is that the investments made by the airport authorities in infrastructure and services contributed significantly to the surge in passenger numbers. During the pandemic-induced lull in air traffic, Bergamo Airport capitalized on the downtime by undertaking various development projects to enhance passenger experience and improve operational efficiency.
These initiatives included expanding terminal facilities, implementing advanced sanitization protocols, optimizing baggage handling processes, and upgrading security measures. Such improvements reassured travelers about safety and positioned Bergamo Airport as a well-equipped and reliable transportation hub, attracting more passengers as they regained confidence in air travel post-pandemic.
The significant surge in passenger numbers witnessed at Bergamo Airport can be attributed to multiple factors. The progressive relaxation of travel restrictions, the release of pent-up travel demand, the airport's advantageous location, and the investments in infrastructure and services all played key roles in driving this remarkable growth. As this airport moves forward, it is expected to thrive and serve as a vital gateway for travelers exploring Italy and beyond.
UNBEATABLE VALUE CAR RENTAL

FREE
Amendments,
FREE
Cancellations,
NO
card fees!

airport_shuttle Need Airport Transfers?
Useful Information about Bergamo Airport